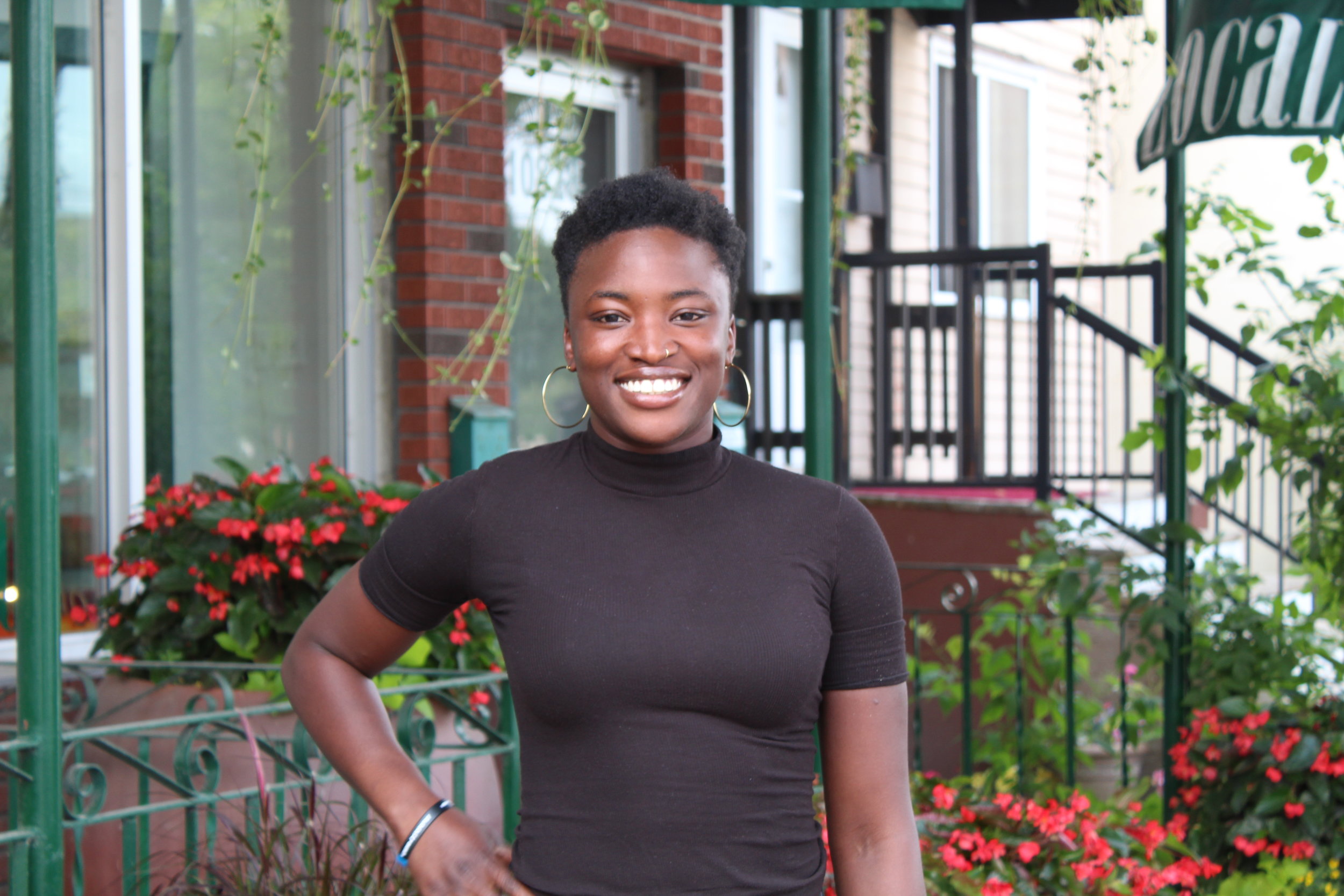 free footie program manager
Ruke Okome is no stranger to clash of worlds that newcomers to Canada face.
"When we migrated, we were in shock," says Ruke. "There was a very 'hot vs. Cold' culture difference." She found herself feeling like a stranger in a strange place.
Ruke grew up until age 11 in her hometown of Calabar, Nigeria.
"Nigeria is incredible," says Ruke. "Everyone there is so warm. They welcome you with open arms, and the food is incredible. We have the best Jollof rice in West Africa. You can quote me on that," Ruke says with her trademark big smile.
Her father came to Edmonton for work, going back to Nigeria to visit his family during breaks, and, having received permanent resident status, was permitted to bring his family over on a trial basis with hopes of eventually migrating to Canada.
"We came, we loved it," recalls Ruke, "and then we had to go back." Ruke, her mom, and her sister returned to Nigeria while her dad stayed on his own and kept working until he could get full approval for the whole family to move to Canada permanently.
They spent 4 years apart, waiting for a new life in Edmonton.
Finally, Ruke's dad got the call.
They could all move.
They could all be together again.
"Driving down the street where I was raised… It was intense, we left so early in the morning, everyone was asleep, it was quiet. We drove down this really raggedy road, and I was saying goodbye to everyone we grew up with. We were rolling tires over there, we played husband-and-wife in that little puddle over there."
The "hot vs. cold" descriptor has proven more literal than Ruke would have liked.
"I don't like the cold. At all. Not my thing. I don't like winter." Ruke's transition to living in Edmonton came with challenges beyond the weather, like coming to terms with the differences between Canadian and Nigerian English, and having to deal with mispronunciations of her name. Ruke's full name is Oghenerukeme Onookome Okome, but she mostly goes by "Ruke," her nickname since she was little. This did not stop her name being butchered on a regular basis.
"I was at a school from Grade 6 to Grade 9, and they never got my name right, ever. Stuff like that is tough, but I honestly think it makes you a little stronger."
It wasn't all rude culture shocks though. Far from it, in fact. Ruke, who has fond memories of rolling tires, playing hide-and-seek, playing soccer, and generally running wild in the streets of Calabar, was right at home playing sports in Edmonton.
"I would be the only girl playing soccer with all the boys, and I did track throughout my school career, always placed, never got fourth," Ruke says with a big smile.
"I may have gotten fourth at one point," she later admits, laughing as she does so.
Ruke also found her niche in working with kids and helping the community. "I love working with young people," says Ruke. "We have a bond, I can't explain it, but it always works."
Spurred on by her mother's encouragement, she has gone on to do non-profit work as a frontline worker for Youth Empowerment Support Services (YESS), and as a parental support worker for the Family Centre.
At YESS, Ruke would act as the "first point of contact" for youths aged 15-22 who struggled with homelessness, addiction, and other "high-risk criteria," helping them along the process that would hopefully provide them with the resources needed to eventually attain employment and housing.
As a parental support worker for the Family Centre, Ruke would supervise visits between children up to the age of 12, and biological parents who may be struggling with homelessness and addiction.
"You meet all kinds of incredible people, incredible youths. There are some that you can't forget, you know? And you just wonder why they're in such insane situations, and… Where do you even start helping, you know?"
Ruke's love for both sports and working with children have intersected nicely, as she has recently accepted a position as Free Footie's Program Manager, where she is currently in charge of facilitating the day-to-day of Free Footie as well as being the first point of contact for the 500 kids and families involved in Free Footie's year round program. Her role is to build strong, meaningful relationships so the programing truly reflects the needs of the communities Free Footie serves. She will also be responsible for encouraging kids to stay with Free Footie beyond grade 6, which was when kids had previously "aged out" of the program. Now with the addition of a Free Footie Junior Ref program for youth in grades 7, 8 and 9, as well as Free a Footie Junior Coach program for youth in grade 10, 11, 12, Ruke will help ensure the kids move onto the next program.
"I think this year's gonna be great with the junior ref and junior coaching programs. I've had a chance to meet some of the coaches and refs that we're gonna be working with, and they're incredible."
She's ecstatic about the opportunity.
"I love running, I love exercising, and I love how easy it is to make friends. Just building that bond and building those skills… How to have that connectivity."
"Being a part of a team is so vital, especially if you're an immigrant. It was so easy for me to get into the sport, and it's like 'okay, you understand what I'm doing, and you understand what I'm doing, so that's great! We're all on the same level right now.'"
"I always want to help people. Always, always, so it's great that I get to do it in this kind of platform... It's awesome."

Written by: Stefan Salegio