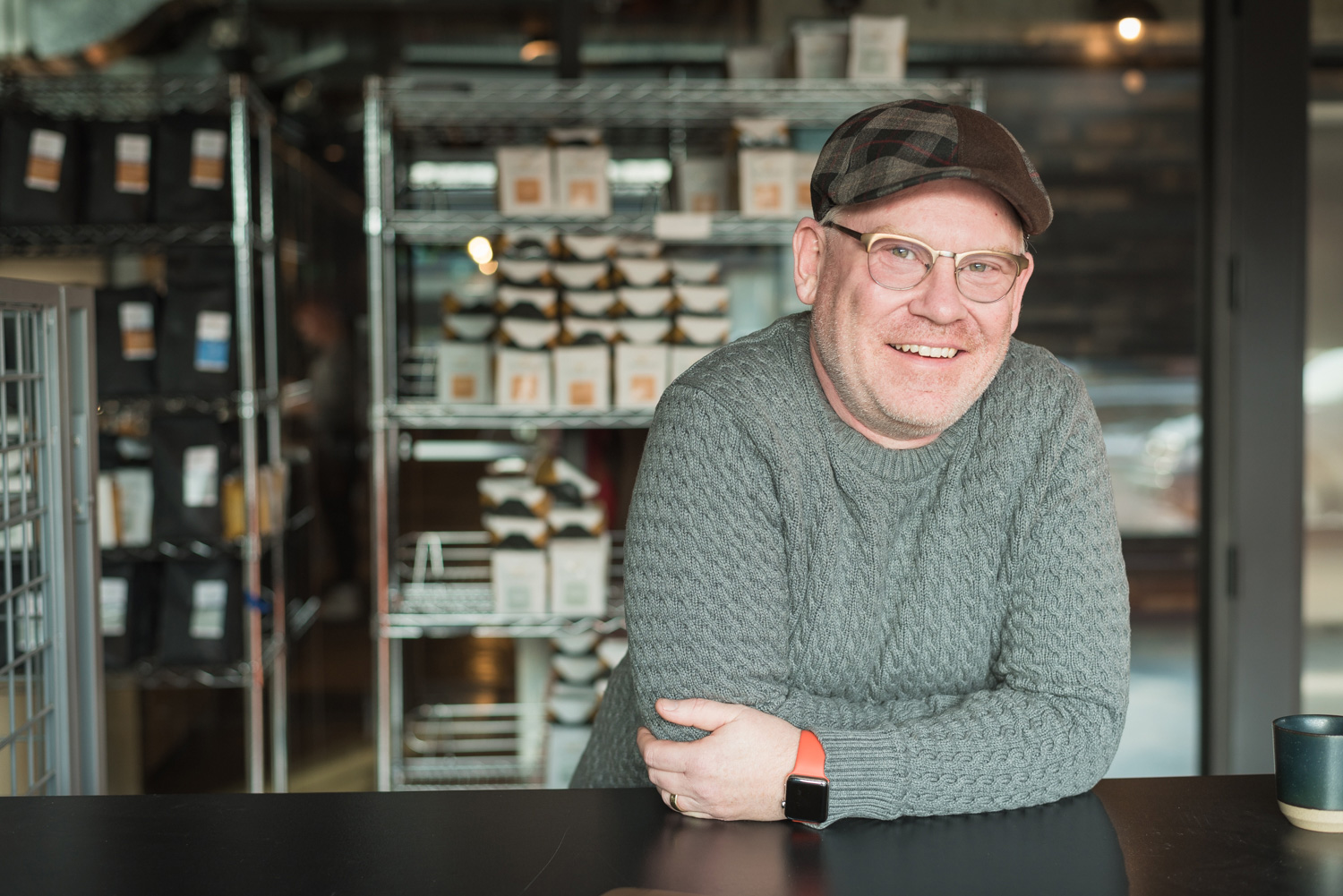 "IT SEEMED LIKE A NO-BRAINER TO GET INVOLVED."
For Poul Mark, opening a café specializing in high-end coffee was a way to build community in central Edmonton. It also presented an exciting new challenge to the connoisseur's palate he'd developed when he got into wine, years earlier.
But not long after opening the first Transcend location, which ushered in a new era of coffee to the city, in 2006, the lawyer-turned- entrepreneur made an uncomfortable discovery.
"I didn't know how brutal of an industry coffee is for producers," Mark says. "It's horrible. The money only flows one way. I have a pretty significant social justice bent—I did Aboriginal law for the short time I practiced—and I found out too late. I'd already invested everything I owned in this business. I wasn't sure how I was going to reconcile that, in all honesty."
Luckily, Mark isn't afraid to learn on the fly. Soon afterwards he found himself in Panama to serve on the jury for a coffee-judging contest, where he soaked up as much knowledge as possible from the other jurors. And at the end, there were a few days left over where he was able to visit coffee farms in person for the first time. "It was intoxicating," he says.
"The smell of jasmine and grapefruit, the entire mountainside in bloom… I've never experienced
anything like that since."
Mark came home from that trip and declared to his staff that Transcend—which has been a proud sponsor of Free Footie since 2016—would soon be 100% direct trade. "I didn't know what that meant," he says. "I just had a sense that we were not going to be part of the problem."
For the next two years, Poul would travel the world in search of the best coffee beans on the planet, and paying farmers a fair price for them.
Running Transcend for more than a decade has come with other learning curves, too. In 2010 the company opened a second location in Garneau that's still going strong, and their new flagship café in the Richie Market is always bustling with happy, caffeinated people.
But other expansions, like the short-lived Jasper Avenue location, didn't stick. These days, Mark describes Transcend as being in its "awkward teenager" phase, trying to balance future expansion plans with the company's commitment to rigorous staff training.
"That's the challenge: How do you grow, but maintain those standards?"
Right now, anyway, quality is not an issue, as any Transcend regular will tell you. "We buy some of the best coffee in the world, frankly," Mark says. "That's not an overstatement. That's just the truth. We roast about 100,000 pounds per year, which sounds like a lot, but Tim Hortons does 300,000 pounds per day."
When it comes to sponsoring charities like Free Footie, it all comes back to community—the reason Transcend was founded in the first place.
"I grew up playing team sports," Mark says, "and I know the value it has, and the impact it can have on the fabric of the community."
For more than a decade he's tried to create places where people can come together and learn from one another. A well-made latte in a beautiful café does the job. But so does a soccer ball.